Many, many years ago I had my first spanakopita (spinach pie) in a Greek restaurant in Milwaukee, Wisconsin. It was love at first bite! Over the years, my own version has evolved. I've made it with regular herbal pie dough and pastry puff dough, as well as tested out different flavors in the filling. In the end, I've come to simply prefer to put in a little extra effort and make spinach pies with filo dough.
The filling for this version is very easy to make, wonderfully cheesy. You can even substitute the Percorino with a ricotto cheese. Buttering and layering the filo dough into a circle is simply theraputic and rewarding--nothing like feeling the wins of an accomplishment.
About Phyllo Dough (or filo dough)
What is it? If you have ever eaten baklava, the lace-thin layers upon layers is phyllo dough. If you have never eaten baklava, stop reading this post and run don't walk to your nearest supermarket that carries it. Better yet, go to a Greek restaurant, order an entree and finish with bakalava.
Phyllo dough is "made with flour, water, and a small amount of oil or white vinegar, though some dessert recipes also call for egg yolks. Homemade filo takes time and skill, requiring progressive rolling and stretching to a single thin and very large sheet. A very big table and a long roller are used, with continual flouring between layers to prevent tearing.
Fortunately, you can purchase filo dough at a supermarket. But if you're intimidated about handling the paper-thin dough sheets, don't be! It just takes practice and little patience.
See how easy it is to make: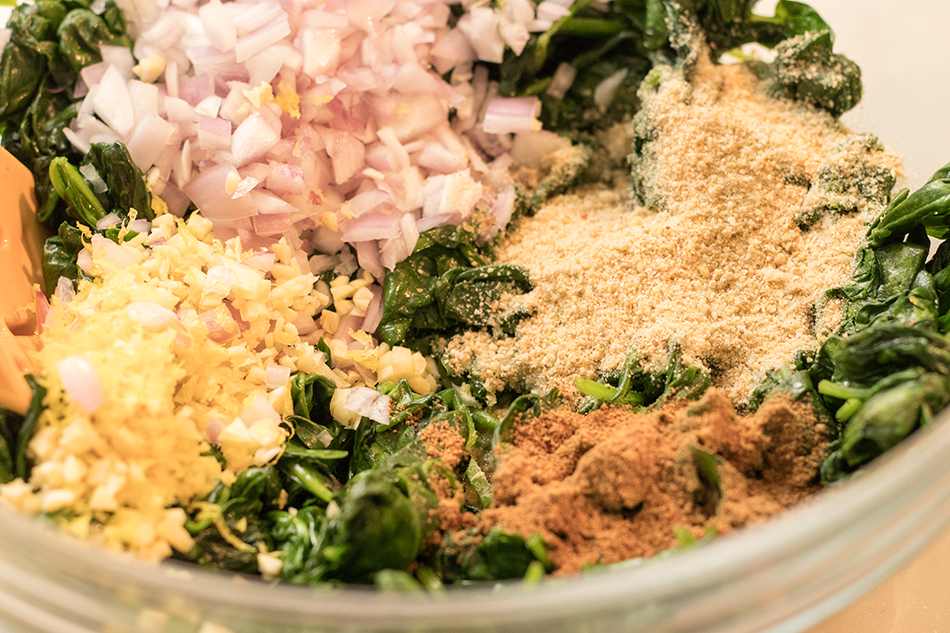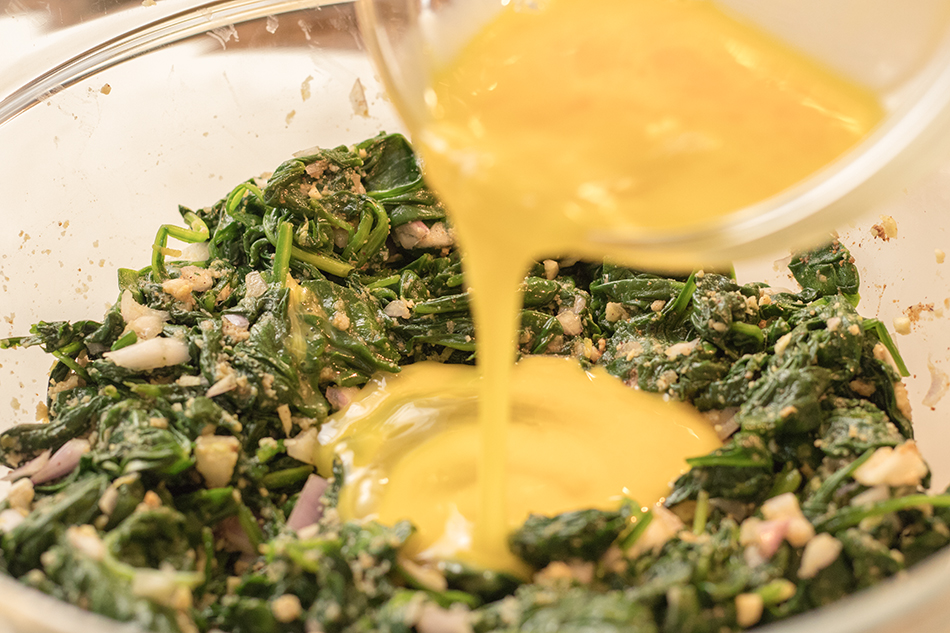 The Recipe
Serves 6
Prep Time: 40 min; Cook time: 45 min
Suggested tools: 10" round pie dish
Ingredients:
2 pounds fresh baby spinach, washed, drained of water and wilted (see instructions)

2 Tablespoons olive oil, plus more to wilt the spinach

1 large scallion, chopped

3 large garlic cloves, chopped

1/3 cup fresh Italian parsley, chopped

2 teaspoons nutmeg, ground

3-4 Tablespoons bread crumbs, plain

2 large eggs, slightly beaten

3/4 pounds feta cheese, crumbled

1/4 pounds Pecorino Romano cheese, grated

salt and pepper to taste

1 lemon zest (optional)

12 sheets phyllo dough, thawed

4 Tablespoons butter
Preparation: Filling
Preheat oven 375 degrees F.

To wilt spinach: Using a very large pot, add sufficient olive oil to cover the bottom and heat over medium heat. Add spinach about half the amount of the spinach. As the spinach comes to wilt, slowly stir in additional spinach. Continue until all of the spinach is wilted. (If you don't have a large pot, use a skillet but add only a 1/4 quantity of the spinach at a time. Remove wilted spinach to a large bowl.

Add 2 tablespoons of olive oil to the pot or skillet and over medium heat sauté onions and garlic, until onions are translucent. Add ingredients to the wilted spinach.

To the wilted spinach mixture, stir in parsley, nutmeg, bread crumbs, salt and pepper and eggs.

Fold in cheeses and set filling aside.
Preparation: Phyllo dough
Remove dough from refrigerator and packaging.

On a cool work surface, place one sheet on the surface.

Place a second sheet rotated at a light angle on top of the first.

Brush lightly with butter from center to the edges.

Repeat steps 2-3 for the next 10 sheets, always slightly rotating the sheets to form a circle (about 12" in diameter) that is stacked in the center.

Carefully lift the stacked filo dough and gently place in the 10" pie dish. Gently press the sides of the dish, allowing the edges of the dough to hang over the pie dish.
Assemble the pie
Pour and evenly spread the filing into the pie dish.

Gently pull up and fold the sides of the phyllo dough over the edge of the filling.
Above is the estimated nutritional value for the spinach pie. Note that it does not include table salt.
You may be interested in more dishes with spinach: