First, making stuffed pasta shells for one does follow a full recipe for more than one. The magic, trick or just being smart and economical is to freeze some of it in multiple containers.
On the one hand, yes, it does require work--if you don't really like to cook. On the hand, once it's done (and you can have fun making it), you can enjoy one dish for now, freeze the other two for later.
Here, I made a prosciutto, spinach and cheese stuffed jumbo pasta shell. A larger dish is made to share with a friend or simply have leftovers. Then two smaller containers are filled with the pre-baked stuffed pasta shells and placed in the freezer.
Above, as you can see, I used a 10" skillet for the larger serving and immediate consumption. My skillet is a type of very hard glass that also tolerates oven use. I had purchased it over 27 years ago. Feel free to use another type of backing dish that is about 8" x 8."
The two smaller 16-ounce containers which tolerated three stuffed stuffed pasta shells are from Corning ware and come with lids. I also have a larger one. I love these containers, particularly in winter when I use them to make chicken pot pies, freezing the smaller ones for later meals.
Here's a preview of some of the steps. Not sure you're ready to cook? Grab a friend, a bottle of wine, or a big cocktail, play a CD, put on your favorite movie--or just do one or two or more of these activities while you have a grand time making this stuffed pasta shell dish for yourself, and perhaps someone else too.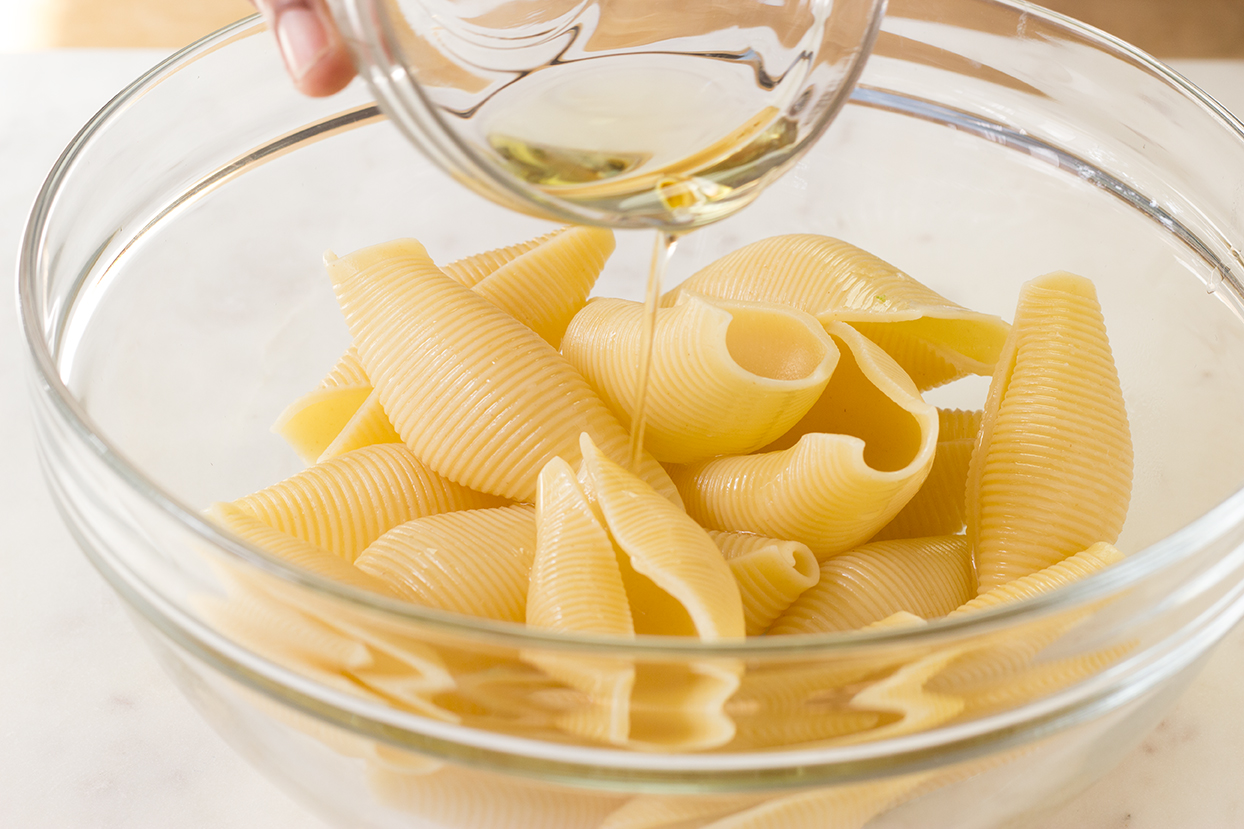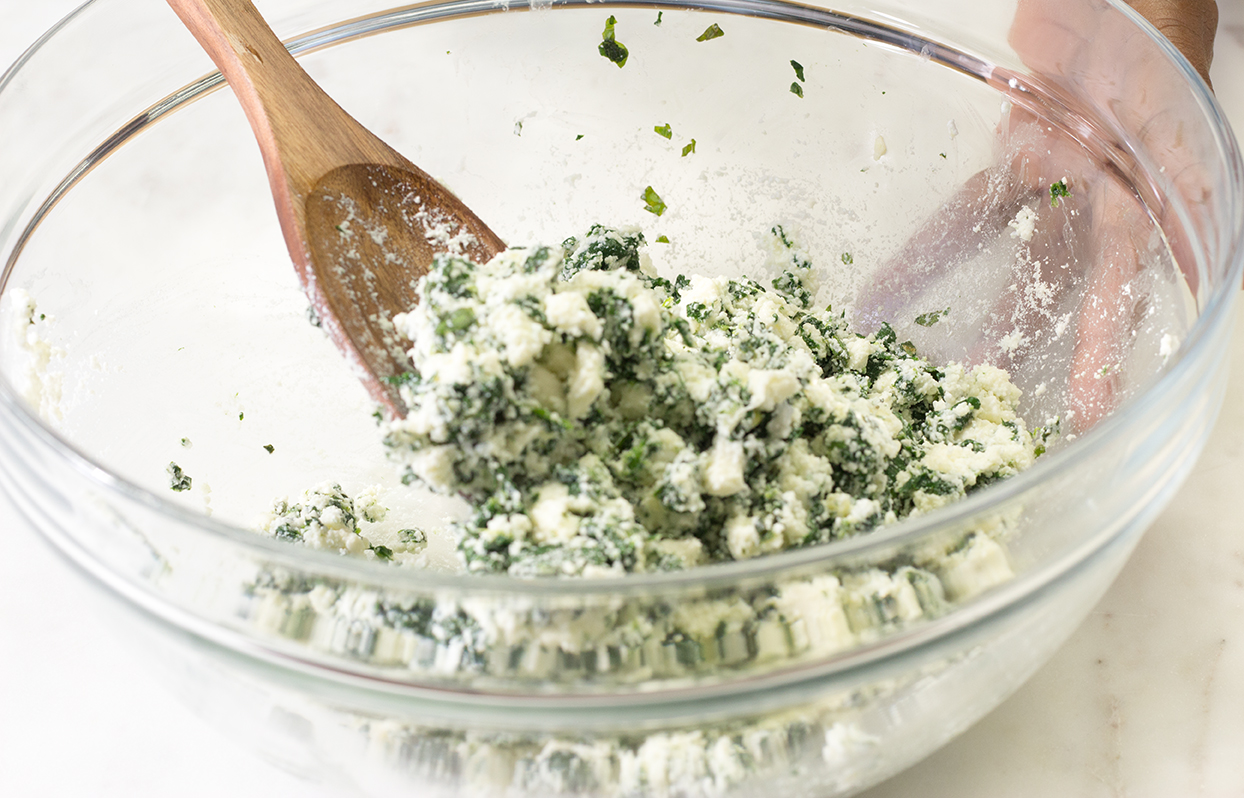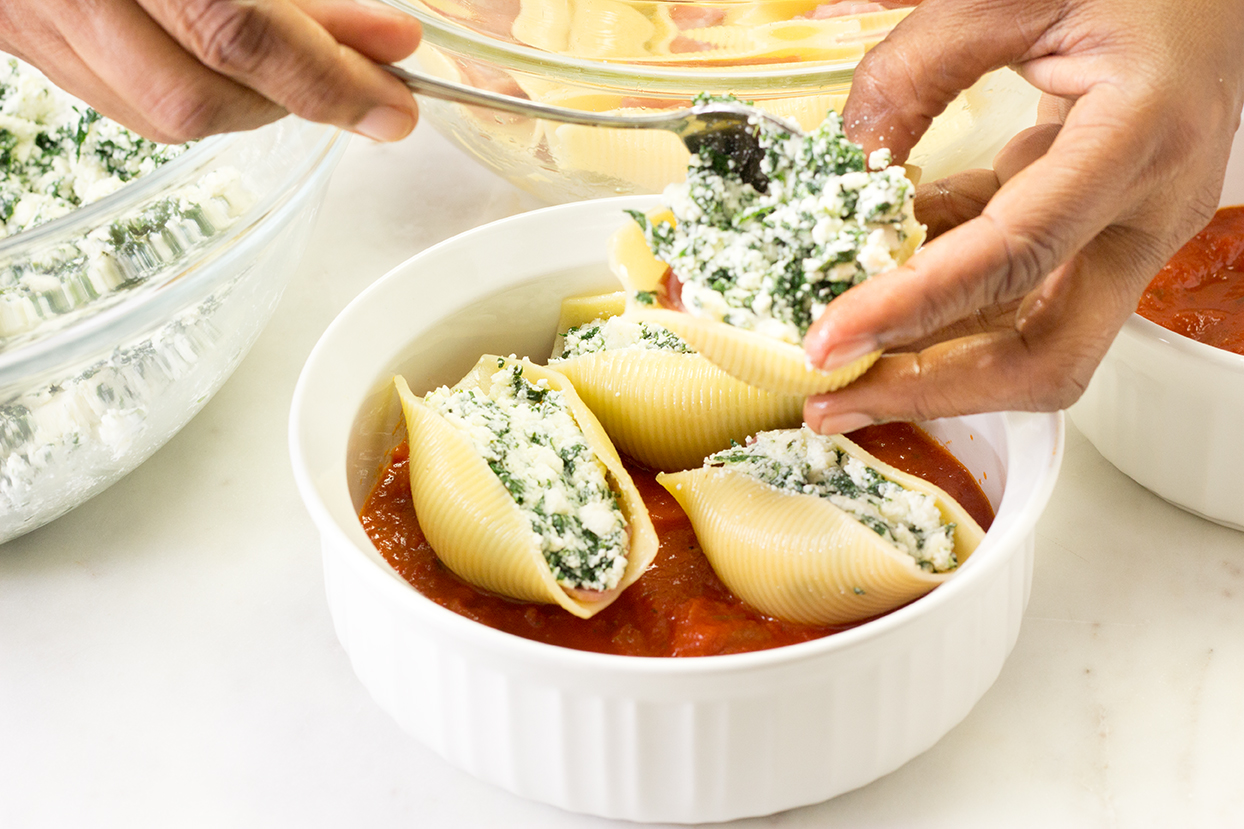 The Recipe
Yields 14 stuffed pasta shells
Preheat oven 375 degrees F
Tools: 1 - 8" or 10" baking dish, 2 - 16 ounce baking dish with lids suitable for storing in a freezer
Ingredients:
14 jumbo pasta shells (plus a couple more for breakage)

2 teaspoons olive oil

2 garlic cloves, minced

8 slices about a 1/4" or less thick prosciutto, each sliced in half and then folded (Or if you can find it, purchase it diced.)

1 cup ricotta cheese, (whole or skim)

1 cup fresh mozzarella cheese (whole or skim) chopped (You can use pre-shredded; however, it may not be fresh. Check the ingredients label.)

1/4 cup grated (crumbly) Parmigiano-Reggiano cheese (This is optional and is used to mix with spinach.)

2 Tablespoons or more grated Parmigiano-Reggiano cheese (used to garnish just prior to baking)

1 egg, slightly beaten (Most spinach-cheese stuffed pasta shells call for this. An egg is the binding element but I do not use it. However, you are free to add it of course.)

1 Tablespoon basil, chopped

8 ounces baby spinach, sautéed and pat dried, and chopped

24 ounces of marinara sauce (Please see cooking notes!)
Preparation:
Cook Shells. Following package instructions, cook the jumbo pasta shells for 9 minutes in salted water. Remaining time to cook the shells will take place during baking. After cook time is completed, remove shells from the water. Turn them with open side down on paper towel to drain out any remaining water. When cooled, toss shells in the olive oil. Set aside.
Prepare spinach. Add about 1-1/2 teaspoon to a heavy bottom pan or skillet. Sautee spinach slowly until wilted. Transfer spinach to paper towels and pat dry, removing as much water as possible. You may need to do this twice. Chop spinach.
Prepare fresh mozzarella cheese. If packaged as balls in a container, there will be a lot of water. Packaged as one large ball, it will still retain a lot of water. Squeeze out as much of this water as possible.
Mix spinach, garlic, basil and cheeses. Set aside. Add folded (or diced) prosciutto to the bottom of each shell. Complete filling each shell with spinach and cheese mix.
Pour a layer of marinara sauce in the bottom of each container. Lay shells in each container, as much as the container will hold. Add more sauce between and around the shells. Sprinkle the top with grated Parmigiano-Reggiano cheese.
For the container you will cook right away, cover with aluminum foil and place on the middle rack of the oven. Bake for 25 minutes. Remove aluminum foil and continue baking for 10-15 minutes.
For the containers you plan to freeze, cover with a clear wrap and seal tightly with the container lid. To bake it later, remove from the freezer, remove lid and clear wrap and bring to room temperature, about 20 minutes. You may need to add a little more parmesan on the top. Bake as directed above.
Cooking notes:
The purpose for draining or squeezing out the water is to eliminate or reduce having a watery stuffed pasta shell dish!
Regarding the prosciutto. If you can find it diced, feel free to purchase that instead. I have tried it both ways and preferred it diced but could not find it at the time I was shopping for this recipe. Of course, it occurred to me later, I could have just chopped it myself! Hmmm.
Marinara sauce. Most recipes will call for 1-1/4 or just a little more sauce. I love a lot of thick sauce, I gleefully sop up extra sauce with roasted garlic parmesan bread. When purchasing marinara sauce, note if water has been added to the ingredients. I purchased marinara sauce Classico Riserva, a very thick sauce with no water listed in the ingredients--just ground tomatoes (tomato puree), citric acid, extra virgin olive oil, onions, garlic, sea salt and spices. One can always add a little water to the sauce.