Warning! You'll need a plate or large napkin held close under the chin while eating these juicy sausage and cheese stuffed roasted sweet mini bell peppers.
Inside each pepper is a spicy sausage mix with the nutty flavors of Gruyere cheese and Parmesan cheese. Another layer of Gruyere cheese tops the pepper and is then sent back to oven for melting.
A great substitute for the Gruyere cheese is provolone cheese which also melts and pulls like a stringy cheese. Just remember, Parmesan with it low water content doesn't melt well. Carry it with a cheese that does melt will still allow you to enjoy it.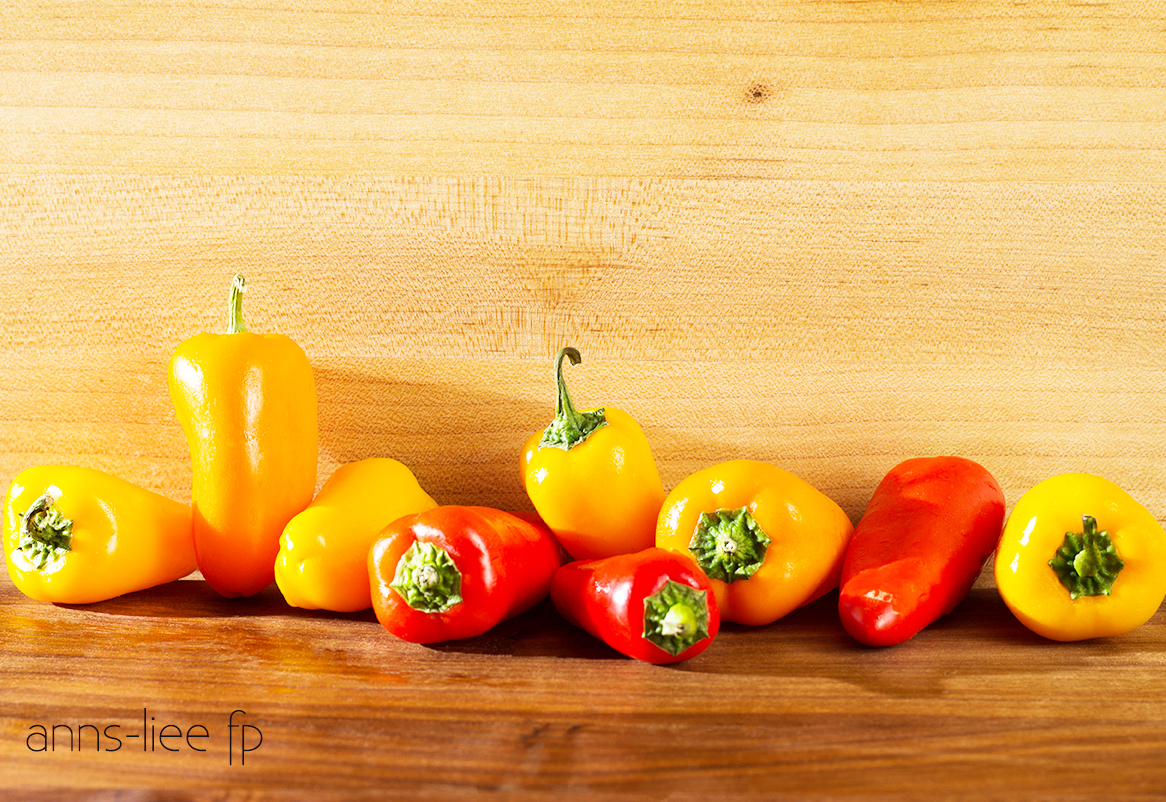 About mini sweet bell peppers
Vine sweet mini bell peppers are hybrids of bell peppers. But they have fewer seeds and are sweeter. The flavor is mild and not hot. They range in sizes 1-1/2" to 4" in colors of yellow, orange and red. The peppers have a wonderfully crunchy texture, a delicious snack to just eat raw. On the other hand, they're great in almost any dish. Usually available year round, I found a bag of them at a Costo Store.
Check out this You Tube Video and see just how easy it is to make these sausage and cheese stuffed sweet mini bell peppers:
The Recipe (yields 12)
Primary Kitchen Tools: 6-cup cupcake pan, 6 - 4-1/2" square parchment paper sheets, Skillet
Pre-heated oven 400 degrees
Ingredients:
12 mini sweet bell peppers, washed and each approximately 2" long

8 ounces spicy bulk sausage

1 shallot, minced

1 very large garlic clove, minced

1 Tablespoon butter

1/2 cup Gruyere cheese, grated

1/3 cup Gruyere cheese, grated (reserved for topping off mini peppers)

1/3 cup Parmesan cheese, grated

1 Tablespoon chopped flat-leaf parsley

1/4 cup flat-leaf Italian parsley, chopped

1 teaspoon crushed red pepper (optional if you want more heat)

Salt and pepper to taste (optional)
Preparation:
Mini Bell Peppers: Line each cupcake holder with one square parchment paper. Fill each cupcake holder with two mini sweet bell peppers. Place the filled cupcake pan on the center rack of the pre-heated oven and bake for 15-20 minutes until the bell peppers are soft. (15 minutes should yield a soft bell pepper but with some firmness. Twenty minutes will of course yield much softer bell peppers but not mushy.) When peppers are cooked, set the pan aside and allow the peppers to cool.
Onions and Garlic: While the peppers are baking, melt butter in a skillet, then sautée onions and garlic until the onions are transparent, about 1-1/2 minutes. Set onions and garlic aside on a dish. Add sausage to skillet, turning and breaking it up into small pieces while cooking. Remove sausage to a bowl when done.
Cheese mix: Mix the 1/2 cup of Gruyere cheese and the 1/3 cup Parmesan cheese in a bowl.
Bringing It All Together: To the sausage, gently mix and stir in each ingredient, the onions and garlic; the cheese mix; and the parsley. Cut off the top for a cap and scrape out any seeds, as well as the inside ribs. Using a small narrow spoon, stuff each pepper up to about a 1/8" of the top. Using the reserved Gruyere cheese, add about a teaspoon or more (or just use your fingers) to the top of each pepper. Put the caps back on each pepper.
You may also be interested this snack/appetizer: